Eric Jaffe
The Atlantic, City Lab
May 22, 2015
Arlington County, Virginia, is one of the most active places in the country when it comes to nudging companies toward car-free commutes. But the tools at its disposal in this effort have been stuck in the past. Let's say a new business in the area wanted a hand showing its 200 employees how to get to work without driving alone. County staffers would go to the Washington Metro trip planner site, punch in home and office addresses, layer on their own personal knowledge about alternatives like bike-share or vanpools, then print out an itinerary—200 times over.
"So they'd have to spend hours and hours putting together these things for clients," says Chris Hamilton, outgoing bureau chief of the Arlington County Commuter Services program, which provides transportation guidance to area employers.
That's about to change with a new site called CarFreeAtoZ. Developed by Arlington in conjunction with transport data consultant Conveyal, who created an open-source platform for the effort named Modeify,* CarFreeAtoZ calls itself the "Washington region's first fully multimodal trip planning and comparison tool." Users type in their origin and destination, as well as their travel time and day of the week, and CarFreeAtoZ pops out a list of options that integrate buses, subway trains, bike-share, walking, and (to a limited-but-growing extent) car- and vanpools—anything but driving alone.
"If we're instantly able to help dozens of companies and give all their employers these personalized trip options, that's way more powerful than the hand-to-hand combat we're doing everyday," says Hamilton.
The tool isn't just meant for county transportation consultants—it's simple enough for anyone in metro D.C. to use. But its potential goes far beyond the individual commuter. The program partners are currently developing another layer that specifically targets local businesses. The idea is both to help employees appreciate all their car-free commute options and to show employers where they might relocate to capture a more transit-friendly workforce. It's the type of broad outreach that could ultimately have a huge impact on city mobility.
"People are looking for options to get to work," says David Emory, a principal at Conveyal. "Particularly options that don't involve driving their car."
It's a notch above Google Maps.
Hamilton describes CarFreeAtoZ as a step up from the likes of Google Maps when it comes to route configuration. Instead of limiting users to a single mode from door to door, CarFreeAtoZ can combine alternatives into one trip itinerary. Let's say you make regular trips from Dupont Circle to Verizon Center in Chinatown. CarFreeAtoZ shows you a Metro option, a Capital Bikeshare option, an all-walking option, or a bus to subway route: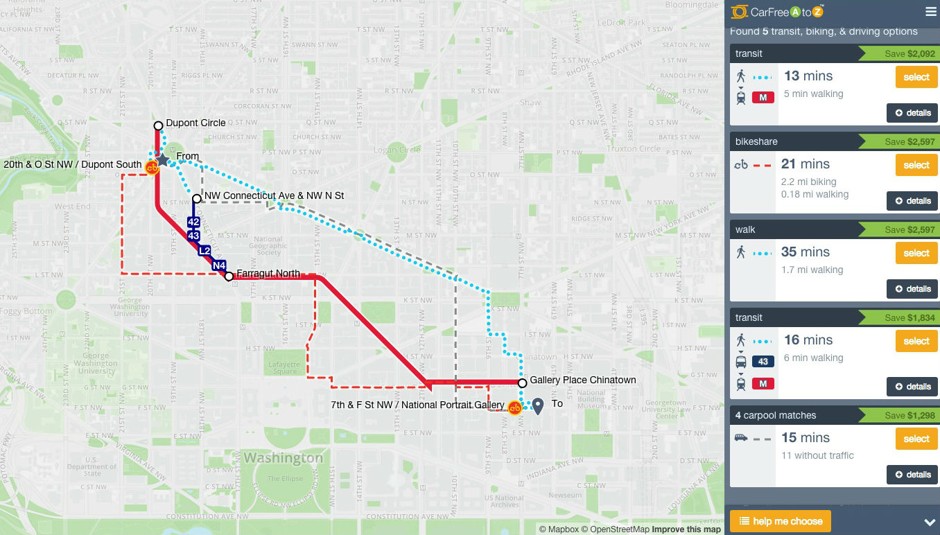 Users can decide if they're making plans for a one-way or round trip, and if they just need help for the day or want to plan a new commute habit. They can also sort their options by five factors: travel time, walking distance, exercise, productivity time, and cost. The tool makes these comparisons based on a drive, says Hamilton, with the cost estimates taking into account fuel prices and downtown parking rates. Here's the Dupont–Verizon Center comparison: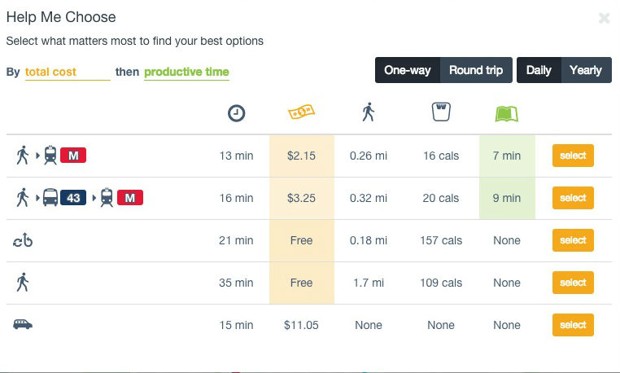 Arlington staffers will be sending car-free teams into the community beginning this summer to teach locals about the tool. But the basic CarFreeAtoZ site might be a hard sell for someone who isn't already interested in making the shift to an alternative mode. Research shows that people are pretty dead set in their commuting ways—to the point where they can't be considered choices so much as reflexes.